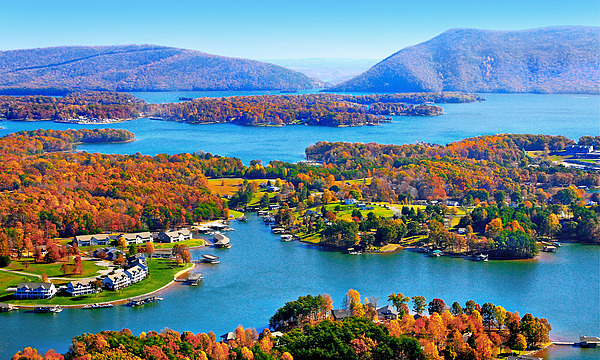 As the song goes…"It's that time of year…"    I'll spare you the rest!
So…I have been thinking about this post for a
month now, but it's so relevant that I had to
share it.
Did you know that the average American
household spends about $3,000 to $5,000 on
"The Holidays" from the end of summer
through New Year's Eve?
I know…you may be saying that you're frugal,
and you don't spend anymore, or you're
empty-nesters, or a number of things…and I'm
sure all of that is true until we all get our credit
card bills and wonder where the holidays were
atually "spent".
Couple that, with this (new, again) cyclical
phenomena…how many of you have a "multi-
generational" home today? My sister has 3
generations under one roof in NJ and it is a
practical solution for this economy.
Here's why I'm bringing all of this up….
One Autumn weekend in the not-so-distant past…
we made a decision…."Carpe Diem!", followed
by "Life's too Short"…followed by…
"That's it…pack a bag…we are going to find our
lakehouse!"
It was a cruddy economy, to say the least…it
was the infamous "Dot.com bust" and I was
notified that I was getting laid off as a
programmer. The company I was working for
was planning on going IPO, and instead, they
rolled up the carpets and went bankrupt and
took our stock options with them…. So it wasn't
any better than today…in fact, it was worse.
"Getting out of Dodge" was just what we
needed….and when we crossed the
Shenandoah's and then the Blue Ridge
Mountains came into view, it was just what the
doctor ordered…..peace, calm and change.
So, it was Halloween weekend when we put the
contract on our first lakehouse, and we closed
on December 15th…and haven't looked back
since….
We put the holidays on hold…made a few
"home-made" gifts and vowed to share the
lakehouse with family and friends as our
current and future holiday offering….
Did it take some "begging, borrowing and
stealing"?…oh heck yeah…did it take some
"robbing Peter to pay Paul"? you know it!
We had to have garage sales…there was no 
such thing as Craigslist or Ebay, no such thing 
as PayPal, we barely had a cell signal on our flip
phones 😉 for the trip!
That was 15 years ago, this coming week….so,
I'm telling you that you're not that far behind me
and you can catch up if you just pick up the
pace and run toward your Dream!
Sit down with yourself….or the family….or the
multiple generations and ask them if they'd all
like to pitch in for your new Smith Mountain
Lake Homestead! Forego the presents and
huge purchases….scrimp and save it all up, sell
your old stuff on Ebay and Craigslist, and you'll
see how quickly your downpayment can add
up!
Talk to your lender to see what's possible….and
if you need help, we have lake lenders here….
In honor of my 15th Anniversary of Closing at 
Smith Mountain Lake, I'd like to offer this:
If you put a home under contract by December 
15th, 2015 I will give you $500 towards your 
closing costs, at the closing table.
I want each and every one of you, to FINALLY,
REALIZE your DREAMS!
Have a Great Week!
All the Best!
Noreen
ABOUT THE AUTHOR: Noreen Hartkern is a well-respected Zillow 5- Star Agent on Smith Mountain Lake, Virginia, with over 20+ Years of Real Estate Expertise. Noreen is an Accomplished Realtor, Real Estate Consultant, New Construction Specialist, Blog Writer & Photographer. In Addition to Listings and Sales, Buyers and Sellers Agency, She has Extensive Experience as a Home Renovator, Rehabber and Flipper, and is a Published Author on That Very Topic.
Her Passion is Living and Working the Waterfront Lake Life and Helping Her Clients Find Lakefront Properties and Hidden Gems. Noreen is also an Accomplished Vocalist and Musician and Prides Herself on Being a Self-Made Entrepreneur. Quite Simply, Noreen is Your Smith Mountain Lake Resource for ALL THINGS Real Estate and Is UNIQUE IN HER APPROACH of Making ANY Real Estate Transaction FUN!!!!!! #SeriouslyFUN
Want "The Smith Mountain Lake Edge"? LOVE Super-Stealth BARGAINS on Smith Mountain Lake? Want to KNOW WHERE THE DEALS ARE BEFORE ANYONE ELSE DOES? GET NOREEN'S SECRET FREE SML REPORT The Bottom is OVER...Grab Some Deals Before they're all GONE!
See You Here Soon! Noreen Hartkern Mobile – (540) 420-1294 noreenhartkern@yahoo.com